Fiscal 2020 started out as a steady and transformative year. The Museum board and management were engaged in leveraging our core competencies by taking on challenging new projects, in particular,  in the humanities and STEAM fields. We also accelerated our work on our Waterfront Initiative, that if executed, would dramatically alter the Museum's front yard and create an exciting and accessible waterfront for all of Boston. Our financial condition was solid, and we were deeply entrenched in strategic planning for the next five years.
By early March, with the progression of the COVID-19 pandemic, it was clear that the fiscal year would not finish with the same strength. When Boston shut down in mid-March, the Museum scrambled to convert its place-based operation to a "work from home" model. There was a massive effort to reduce discretionary spending, to make savings on building and property operations, and to minimize furloughs and layoffs. While the Museum was grateful to have received a Paycheck Protection Program loan from the government that allowed us to maintain many of our employees, the moneys were not adequate to compensate for the loss of admissions, membership, and other earned income revenues.
Due to these challenging circumstances, this fiscal 2020 financial report is very sobering. On the positive side, gifts, grants and contributions held up through the end of June,  with the assistance of our "Helping Hands" campaign and a 100% contribution from our board of trustees. Our property revenues were generally flat, and the funding support from our endowment was slightly higher than in fiscal 2019. However, having closed in March, admissions and membership revenues dropped almost $1.5 million year-to-year, and all other sources of earned income disappeared. While these results represent the first real loss in many years, our larger concern is fiscal 2021.
In our planning for the new fiscal year, we eliminated discretionary spending, while still supporting the building, property, and tenant operations. We re-opened the Museum in July with limited capacity and timed-ticketing, for only five days a week, capping the possible income at an extremely low level. In addition, as we learn more about how and when the public will return to museums and other indoor facilities, we are continuing to consolidate business functions and seek operating efficiencies in every aspect of our institution. Meanwhile, staying open requires employing the critical COVID-19 standards for cleaning and social distancing,  remarkably costly but essential.
The Museum is fortunate to have been frugal over the last decade and has a cash reserve that we are relying on to help carry us through the end of fiscal 2021.  However, staying open is dependent on the continued financial support from friends and funders, and the community.  In any case, it is noteworthy that the amazing staff at Boston Children's Museum continues to carry on with their focus on enriching children and families' lives and creating experiences in a safe, healthy, and fun environment.
Amy L. Auerbach
Senior Vice President and CFO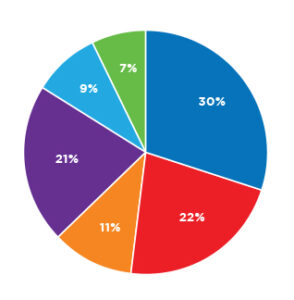 AnnualReport2020_Operating_Results [PDF 9MB]