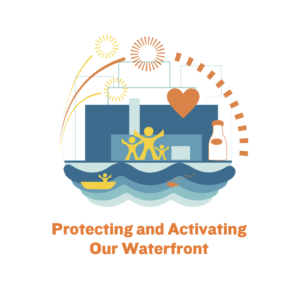 In 2019, the Museum announced an ambitious resilience planning initiative to respond to the acute flooding risk posed by sea level rise and extreme weather events affecting the Seaport and Fort Point area. Built on low lying or filled land, the entire Fort Point area is one of the lowest lying areas in South Boston. The Fort Point Channel is a flood corridor into the Seaport and South Boston, and extreme weather events therefore pose a direct threat to the Museum's location on Fort Point Channel.
To address the threat, the Museum sought proposals from leading design firms with experience completing complex landscape and engineering projects. After review of multiple proposals, the Museum selected international design firm Sasaki Associates to create a plan that would address both the need to protect the Museum as well as reimagine the Harborwalk area in front of the Museum to fully activate diverse uses and allow increased accessibility to the natural environment.
Sasaki's submitted design options, currently under consideration, would provide optimal protection for the Museum into the future by implementing key structural changes to the water plane and water edge infrastructure, as well as transform a static waterfront into an immersive and welcoming "front yard."
The Museum anticipates finalizing the waterfront design plan by the end of calendar year 2020.